Three months ago, more than 80 students gathered for the CyberStart launch party. Among those attendees was College of Engineering and Computer Science graduate student Weiling Wang, who enjoyed some pizza while cranking through the online cybersecurity challenges. More than 119,000 points later, Wang is the CyberStart champion at Syracuse University.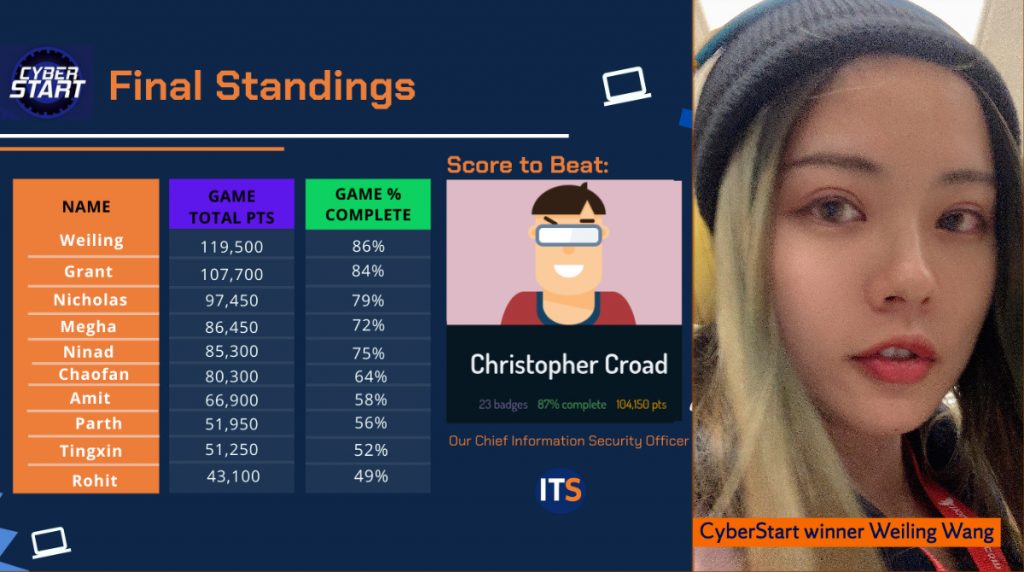 CyberStart is a program funded by the National Science Foundation (NSF) and developed by the SysAdmin, Audit, Network and Security (SANS) Institute to identify and train the cybersecurity professionals of the future. The online game offers students the opportunity to learn more about the cybersecurity profession, test their problem-solving skills and learn new technology.
Syracuse University was one of just nine schools selected by the SANS Institute to participate in the CyberStart program. Chief Information Security Officer Chris Croad partnered with Professor Shiu-Kai Chin from the College of Engineering and Computer Science to bring CyberStart to campus.
"From my perspective, the Cyberstart program has been a huge success just in the number of students who took part," Croad says. "The game was really challenging in the higher levels, and I was thrilled to see Weiling and others do so well. I hope we have the opportunity to work with some of the players through paid student positions in our Security Operations Center."
Wang enjoyed the variety of challenges CyberStart offered. "It includes web security, cryptography, forensics and coding, which I learned from my courses," Wang says. "I am good at the forensics part, like extracting information from pictures or analyzing the logs and memory. I highly recommend Kevin Du's computer security course, which is very helpful."
Throughout the competition, Wang checked in on the scoreboard but "had no idea" she would win. She was "excited and surprised" when she learned that she finished in first place.
"CyberStart reinforced my enthusiasm and passion for cybersecurity," Wang says. "After [CyberStart], I also participated in some other capture the flag competitions. What I learned from these competitions will help me pursue my career in cybersecurity."
Congratulations to Weiling and all of our CyberStart participants!