Although the Syracuse University MakerSpace is closed due to concerns around the coronavirus, its 3D printers are fully operational. They're just operating in lead technologist John Mangicaro's basement as he prints face shields to support workers at a local coronavirus test site.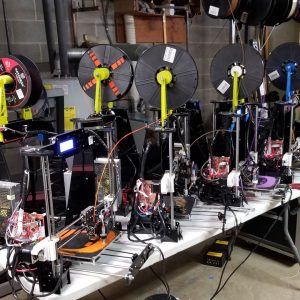 Located in the Kimmel Computer Lab, the Syracuse University MakerSpace houses 3D printers, textile machines, milling equipment, soldering, a laser engraver and more. To put some of the machines to good use while the MakerSpace is closed (the computer lab remains available), Mangicaro took home 10 3D printers to support the face shield initiative headed by Syracuse alumnus Isaac Budmen '12. We spoke with Mangicaro briefly to get an update.
How did you get involved with this?
I started getting emails and people were contacting me knowing the work that I've done and the MakerSpace's printing capabilities. I read that Isaac Budmen and his wife were setting up shop in the Film Hub near Rt. 481. That is near my home, so last week I drove down there to introduce myself. I thought it would just be easier to bring printers home and deliver parts of the headsets to them.
How long does it take you to make a mask? 
They take a little over an hour each. I have been able to produce around 80 or so a day. By the end of [Friday], I should be close to 300.
Why did you want to get involved?
Working from home was going to be tough for me since all my equipment is up at the MakerSpace. I thought this was a great opportunity. Plus, I've always said the best medicine for anyone is to help someone.