As of January 5, 2020, MySlice will be integrated with the Syracuse University single sign on (SSO) system. This integration will allow you to log in to multiple platforms (e.g., Blackboard, Degree Works, etc.) with one click while also enjoying a sleeker login experience on desktop and mobile devices thanks to a refreshed login page.
New-Look Login Page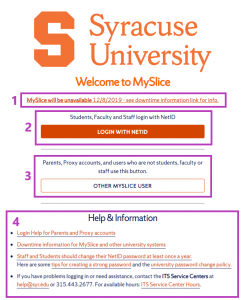 The updated login page (shown to the right) will retain key information while adding some important functions:
Critical information banner – Will display as events warrant.
SU NetID Login – For students, faculty and staff.
Other MySlice User Login – For parents, proxy accounts, etc.
Help and Information section – Links to relevant news and information
The new login page is fully mobile-compliant and responsive. This means it will look "right" on any display, whether a PC or a phone – no more pinching and zooming!
Logging In
Enrolled students, faculty and staff will use the "Login with NetID" button with their lower-case NetID just like they used the previous login box. Parents, proxy users and others with an UPPER CASE login will use the "Other MySlice User" login button.
After clicking the appropriate button, the user will be taken to a separate login page to enter NetID and password information. Once logged in, the user will go to the MySlice homepage. While the browser is open, you can access other applications within the SSO network (e.g., Blackboard, Degree Works, etc.) without needing to sign in to each one.
Logging Out: Remember to Close the Browser
To sign out of MySlice, click "Sign Out" at the top right. Remember: In a single sign on environment, when you log out of one application but leave your browser open, you could still be logged in to another application. It is important to close all browser windows to terminate your session fully. This is especially important on public or shared devices.
Additional information about the MySlice login update is available on Answers.