By: Gillian Follett, '22
The ITS Service Center offers technology-related support to the Syracuse University community. But for the student employees who work there, the center provides an equally valuable service — the opportunity to hone their professional and interpersonal skills.
"I've learned such a wide variety of skills," said lead consultant Lisa Pugh, a senior information management and technology major. "Not just hard technical skills, but also professionalism and how to really deal with people from all different technology backgrounds."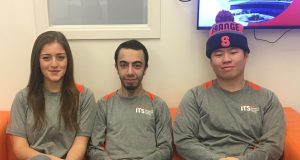 Located at 1-227 CST in the Center for Science and Technology, the ITS Service Center provides assistance seven days a week to students, faculty and staff with their campus resources, including Blackboard, MySlice, NetID, SU Email and more. Students experiencing issues with their devices, such as computers or cell phones, can acquire help with data transfer or backup, virus removal and software installation along with several other technical support services. In addition to in-person support, the Service Center also is available seven days a week by phone (315.443.2677) or email (help@syr.edu).
Student employees are an integral part of the operation of ITS. Each semester, a team of students works together to help clients who visit the Service Center.
"Our goal is that all student employees working for the Service Center acquire a skillset that goes beyond troubleshooting," said ITS Service Center manager Dan Jeski. "We want them to gain real-world experience in the role information technology plays throughout large organizations in preparation for their future careers."
The issues Service Center students tackle can range from simple problems connecting to the Internet to more complex situations involving bulky, out-of-date computers or devices that mysteriously refuse to turn on. No matter the difficulty of the requests, each problem gives the student employees an opportunity to grow professionally and gain hands-on experience in the field of information technology.
Pugh began working at the Service Center in the first few weeks of her freshman year. When she applied for the position of student consultant, she had no idea what the job would entail. Over the past three years, she has gained experience in effectively communicating ideas and working with her fellow consultants to solve problems — skills that she has brought to internships throughout her time at Syracuse University.
Andrew Lee, a junior studying information management and technology, has worked as a Service Center consultant for the past two semesters. Although he has gained technical skills troubleshooting Apple and Windows devices through his position, Lee cites the experience he has gained in working with a team to solve problems as the most beneficial aspect of his work. The center's collaborative environment allows him to gain hands-on experience with IT-related problems, he said.
"I wanted a job that was very engaging and allowed me to learn more about my career," Lee said. "And this is pretty much it."
Rare technical issues — which the student workers call "unicorns" — require an all-hands-on-deck approach. A recent case involved assembling an outdated computer, said Malkiel Asher, a junior computer engineering major. Because the device was so old, the consultants were excited by the challenge and gathered around the table to work on it until they were able to get the computer to turn on. Situations such as these have given Asher the opportunity to work with people from a wide range of different backgrounds and skill sets, he said.
If you need help over the Winter Break, the ITS Service Center will continue to provide technical support by phone and email throughout the break. The in-person support center will be closed beginning December 20, reopening on January 2. You can visit the Service Center's website for day-by-day hours of operations.