It's a new year and a new semester. As students prepare to return to campus, here are some important things to know and do.
Need Help?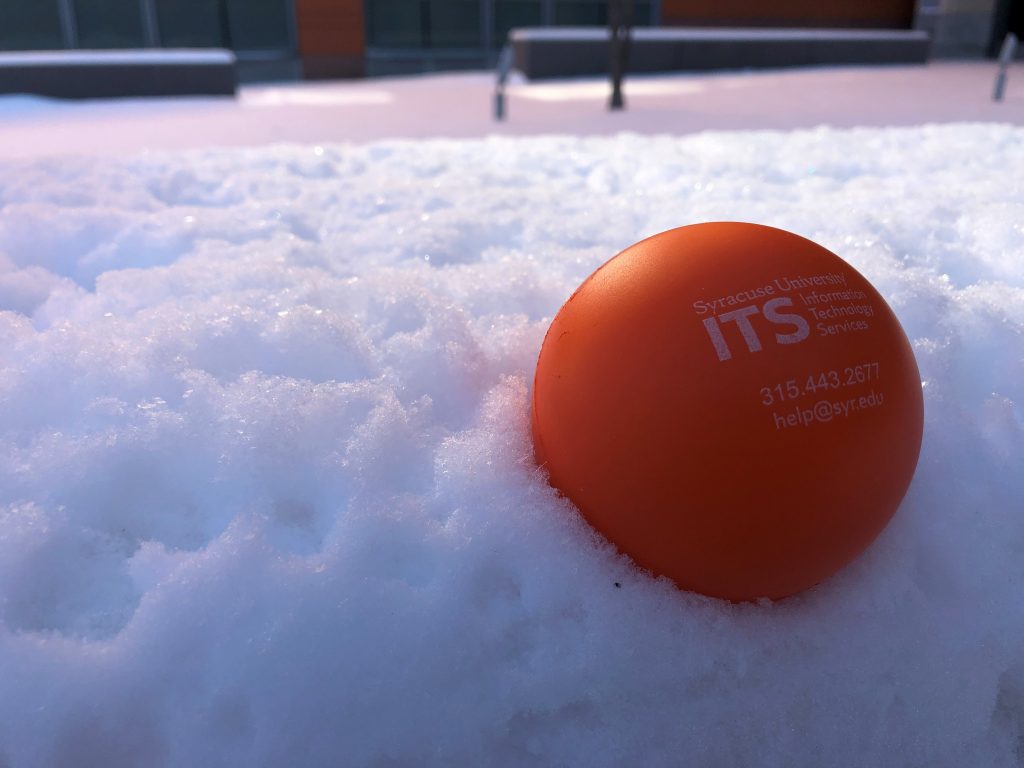 Assistance is available from the ITS Service Center throughout the Winter Break by visiting Room 1-227 in the Center for Science and Technology, by calling 315.443.2677 or by emailing help@syr.edu. If you need help, check our daily hours of operation or request help online.
Manage Your Multi-Factor Authentication
Be sure to configure your multi-factor authentication methods prior to traveling if you haven't already done so. Multi-factor authentication helps to prevent the unauthorized use of your NetID and password by requiring you to submit something that only you would have. Often, this is a one-time code generated by an app or texted to your phone. You can manage or update your security verification methods at msmfa.syr.edu. ITS recommends you download and configure the Microsoft Authenticator app on the mobile device you will take with you while traveling.
Configure AirOrangeX
AirOrangeX provides 100% wireless coverage in all residential facilities and across the Syracuse University campus. To get connected, visit aoh.syr.edu and follow the instructions for your specific device. This will ensure that you remain connected to AirOrangeX anywhere on campus.
MySlice Login Upgrade
As of January 5, 2020, MySlice will be integrated with the Syracuse University single sign on (SSO) system. This integration will allow you to log in to multiple platforms (e.g., Blackboard, Degree Works, etc.) with one click while also enjoying an improved login experience on desktop and mobile devices thanks to a refreshed login page.
LinkedIn Learning
LinkedIn Learning (formerly Lynda.com) provides unlimited access to online courses that help you refine your skills and develop new ones. You can log into LinkedIn Learning by visiting linkedinlearning.syr.edu and logging in with your NetID and password.
Now Streaming: SpectrumU
In addition to the cable service provided by Spectrum in all Syracuse University residential halls, you now can watch TV on your preferred devices anywhere on campus with SpectrumU TV. This video streaming service delivers live TV, as well as on-demand television shows and movies. To begin streaming, you can download the SpectrumU app, search for Spectrum TV in the Roku Channel Store or visit watch.spectrum.net (Flash required).
See you soon, #OneCuse. We look forward to helping you crush it this semester!